A simple case of breach of contract and misrepresention was sealed in its entirety. No minors, or victims of sexual assault or domestic violence were involved.
So why was the case sealed then?
Because the case was tied to Southern Company, its subsidiary Alabama Power, and/or sister-wife Balch & Bingham.
Observers have been stunned by the sheer control that Southern Company has over judges and the judicial branch in Alabama.
The Racketeer Influenced and Corrupt Organizations Act (RICO) provides for extended criminal penalties and a civil cause of action for acts performed as part of an ongoing criminal organization.
With the numerous documents, financial records, and insurmountable evidence of Southern Company's criminal enterprise, now the greasing and corruption of the judicial branch of Alabama is under scrutiny.
The simple case of breach of contract and misrepresention is ex-Drummond executive David Roberson's $75 million civil lawsuit against Drummond Company and Balch & Bingham.
No developments in the case are currently available because of the gag order, sealing of the case.
And the motions to seal the case were made shortly after disgraced ex-Alabama Power CEO Mark A. Crosswhite was subpoenaed to testify.
Known as the rebirth of the North Birmingham Bribery Trial, the case caused uncontrolled panic by Alabama Power, Drummond, and Balch before it was sealed.
And why does Southern Company seal a case?
So they can cheat and hide high crimes and misdemeanors.
Look at the Newsome Conspiracy Case where Southern Company's attorneys at Balch & Bingham sealed the case in its entirety, known as a secret Star Chamber.
The entire case was "won" on a counterfeit order that even Balch admitted was counterfeit.
The counterfeit order was embarrassingly affirmed by the Alabama Supreme Court after contradicting an earlier, split-decision.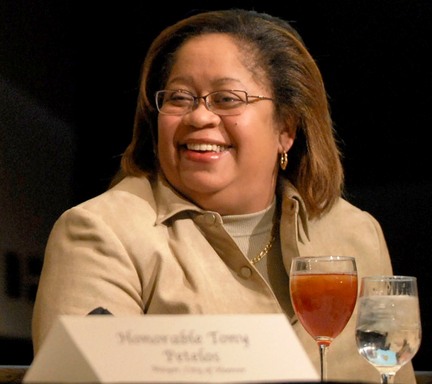 Judge Carole Smitherman, who presided over the Newsome Conspiracy Case, was completely bias, calling Newsome's pleadings an attack on her family.
Why would she allude to her family?
Because her husband, Alabama State Senator Roger Smitherman received over $30,000 in legal bribes contributions from Southern Company linked PACs and donors at critical junctures during the case. Senator Smitherman even sat in on the secret Star Chamber hearings of the Newsome case when no one outside of the case was supposed to be in the courtroom.
Crosswhite's inappropriate relationship with disgraced ex-U.S. Attorney Jay E. Town helped Alabama Power to be "unmentionable" during the North Birmingham Bribery Trial and allegedly prevented a broader investigation after the convictions, that could have led to indictments of Southern Company employees.
Except for Regions Bank in Birmingham, Alabama has no Fortune 500 companies headquartered in the state.
Why?
Because of the high risk of a failed and compromised legal system.
What company CEO would want to deal with a corrupt and bias "system of justice" controlled and manipulated by a corrupt few in Jefferson County and Montgomery?
The rule of law and the people's court sadly does not exist, but RICO actions against Southern Company and its criminal enterprise can bring an end of an era of uncontrolled corruption and flagrant miscarriages of justice.
Hear, hear!