In Alabama, there is no such thing as a coincidence.
As observers we cannot believe the sheer stupidity of operatives who work for or are associated with the alleged unsavory conduct of Balch & Bingham or Balch's sister-wife Alabama Power.
Some of these goons think they are above the law, never to be caught or reprimanded.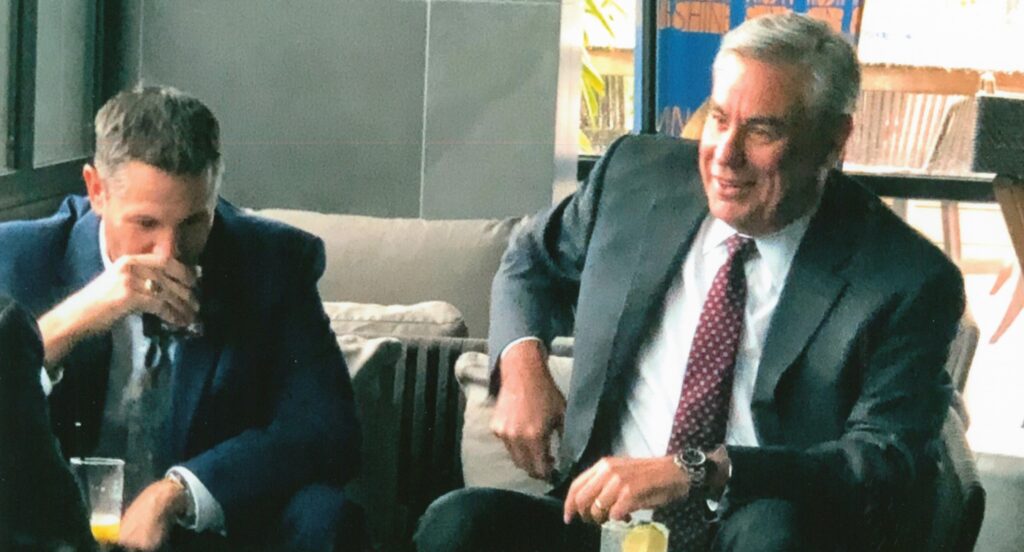 And the explosive, jaw-dropping photographs of U.S. Attorney Jay E. Town chugging down drinks with Alabama Power Chairman and CEO Mark A. Crosswhite, a former Balch partner, confirms a dubious relationship and affirms the belief that Town's integrity is lacking.
Now Balch's alleged Tour de Force has come to light.
The Newsome Conspiracy Case not only involved the "staged arrest" of Balch's competitor Burt Newsome by the cop-son of a now-retired Alabama Power executive.
We also uncovered alleged criminal obstruction of justice in the Newsome Conspiracy Case by Robert M. Ronnlund, an attorney representing one of the alleged co-conspirators.
No coincidence, Ronnlund's wife, Millicent Ronnlund, was a partner at Balch & Bingham at the time the alleged obstruction occurred.
In a letter to AT&T dated January 16, 2016, Ronnlund wrote that "an objection has been filed regarding the deposition subpoena" and added, "absent a valid court order, please do not produce any documentation."
Both were lies.
An "objection" was never filed and the threat to AT&T not to produce any documentation without a "valid court order" was 100 percent bull.
What documentation was Ronnlund attempting to impede? Phone records associated to another co-conspirator, John W. Bullock, who is not even Ronnlund's client.
The letter to AT&T appears to be a deliberate and deceptive tactic to obstruct justice, to hide evidence, and to protect the alleged co-conspirators.
18 U.S.C. § 1503 defines "obstruction of justice" as an act that "corruptly or by threats or force, or by any threatening letter or communication, influences, obstructs, or impedes, or endeavors to influence, obstruct, or impede, the due administration of justice."
In June of 2017, Newsome's legal team obtained the phone records (and a copy of Ronnlund's letter) linking all the co-conspirators to a single phone number (205) 410-1494 and filed a third amended complaint in his case.
Balch & Bingham's initial response in open court in July of 2017 was to foolishly attribute the phone number to a "telemarketer."
As we wrote on July 14, 2017, "For heaven's sake, some of these calls were for 18 or 19 minutes! Do we really think Balch's partner was purchasing a set of non-stick frying pans or a box of the fastest toilet bowl cleaner?"
Ridiculed and mocked, Balch and Ronnlund allegedly went into action.
During the week of July 24, 2017, Verizon's records of the cell number were inaccessible allegedly due to a law enforcement block.
Then Ronnlund filed a notice of a deposition with a Verizon corporate representative (occurring with no subpoena and in less than two business days) on Thursday afternoon, July 27, 2017.
On Friday, July 28, 2017, Ronnlund filed a highly questionable, unsworn Calera (Alabama) Police Department affidavit with the alleged narrative that the (205) 410-1494 number was not a phone number but a "routing switch."
According to Alacourt.com, no subpoena for the Verizon deposition was ever filed with the court.
After the sealed deposition with Verizon took place on Monday July 31, 2017, Balch filed a motion to dismiss Newsome's amended complaint calling the cell phone number allegation a "falsity" and the judge, two days later, without a hearing, signed the order on August 2, 2017.
In less than a week, the key witness— (205) 410-1494— was assassinated, cremated, and buried.
We, the CDLU, have questioned the legitimacy of the deposition. Was it a real or staged event? Highly unusual, the deposition with Verizon did not take place at their large corporate campus.
Instead, this deposition supposedly took place at a Regus Center (a rent by the hour office space facility) in Bedminster, New Jersey less than 10 miles from Verizon's Corporate Headquarters located in Basking Ridge, New Jersey.
And what law firm represents Verizon regularly? McElroy, Deutsch, Mulvaney & Carpenter in Morristown, New Jersey, just one mile away from Verizon's Corporate Headquarters.
And who worked for McElroy, Deutsch, Mulvaney & Carpenter before his career as a prosecutor?
Jay E. Town
Pulling in all their weight to crush Newsome, we suspect Balch (and/or their sister-wife Alabama Power) appears to have reached out to Town for his assistance in July of 2017, a tour de force.
And who would doubt it?
As seen in the North Birmingham Bribery Scandal, Balch & Bingham was able to collect high-profile signatures on ghost-written letters; concoct and pass legislative resolutions; infiltrate and stymie opponents; and use a network of political allies to breach the public good.
Dirty work. Real dirty work. And that is not a coincidence.