The Newsome Conspiracy Case highlights what appears to be unethical, maybe even criminal behavior.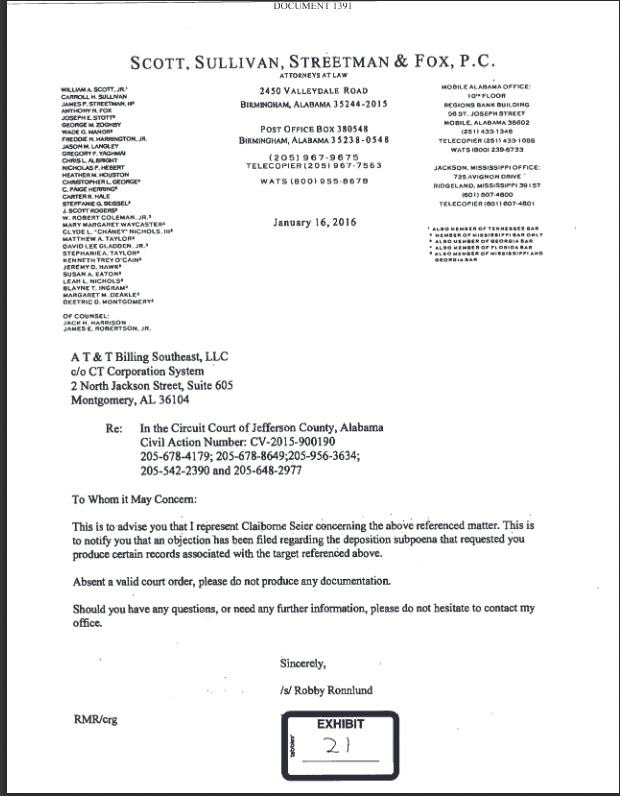 The letter sent to AT&T in early 2016 appears to have been sent to prevent phone records from being released to Newsome's legal team.
The claims in the letter justifying the withholding of information are knowingly 100% false: there was no objection filed at the time and no valid court order was needed to release the information.
Perjury? Some think so.
We think it appears to be an intentional obstruction of justice.
Balch & Bingham leaders need to pull their heads out of the sand and clean this horrific mess up.
We learned new information from an anonymous source in the past 24 hours:  The signer of that letter is Robert M. Ronnlund.  We learned his wife, Millicent,  works as an attorney for (drum roll)… Balch & Bingham. [Update: She left as a partner at the end of 2017.]
We now believe even more strongly that Balch may have been allegedly directing this conspiracy against Newsome from the get go. As we wrote previously about our initial perspective, we were wrong.
Why in the heck would Ronnlund, who represents alleged co-conspirator Claiborne Seier in the matter, be writing to AT&T about another co-conspirator's (John W. Bullock) phone numbers?
How would Ronnlund know all the phone numbers associated with the other alleged co-conspirator?
Is Balch in any way funding or paying for Seier's defense? Bullock's defense?
With what we learned in the Oliver Robinson affair, we have no idea if the letter was written by a Balch attorney or Ronnlund directly. We only know the alleged mastermind (Clark A. Cooper) was fired on March 3 by Balch.
Interestingly, Ronnlund was the same person pushing for and defending the questionable Verizon deposition on July 31st.
We have repeatedly said that in the Newsome Conspiracy Case, Judge Carole Smitherman, who sealed the case  in its entirety and is  conducting proceedings in secret, looks like she is possibly hiding perjury or criminal acts.
The AT&T letter, now sealed and hidden from public scrutiny,  exemplifies conduct unbecoming of a lawyer who graduated magna cum laude from the University of Alabama, and demonstrates unequivocally that allegations of perjury or criminal acts are warranted.