The tiny environmental group GASP, the alleged intended target of the "brilliant" North Birmingham bribery scheme, is digging into the federal criminal trial evidence from 2018 meticulously.
And what have they found?
More evidence that appears to show that Alabama Power was being regularly briefed about the scheme.
Unindicted co-conspirators or unindicted masterminds?
In an email from July 2015, Balch-made millionaire Joel I. Gilbert tells his Balch colleague Steven McKinney to forward the "dues invoice" to Alabama Power's point person, Matt Bowden, writing "we need to probably update him soon on new developments."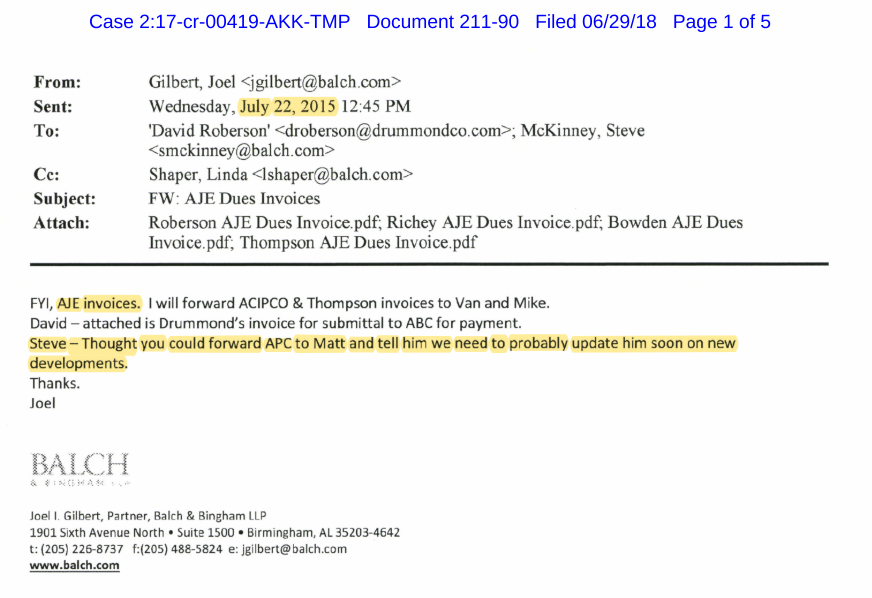 Is it no wonder that now, today the "unmentionable" deal has become the talk of Birmingham?
The alleged secret deal that was hatched before the criminal trial did not allow criminal attorneys or defendants to mention or discuss Alabama Power unless cleared by Alabama Power's criminal attorney.
What a farce!
The allegations have shaken the legal community and given U.S. Attorney Jay E. Town's reputation a severe, swollen black-eye.
And the compromising, jaw-dropping photos of Town gulping down drinks at the Moon Shine Lounge with Alabama Power CEO Mark A. Crosswhite haven't helped either; the photos affirm a dubious relationship.
GASP looks like a winner again; the tiny mouse that roared and spooked Mark A. Crosswhite onto a wobbly chair.