Before the end of this month, Burt Newsome's legal team will be filing his appellate brief with the Alabama Supreme Court in regards to the Newsome Conspiracy Case, an alleged conspiracy spearheaded by Balch & Bingham's ex-partner Clark A. Cooper who is accused of wanting to steal Newsome's lucrative legal practice of servicing banks.
Two years ago this week, at the height of two federal probes, Balch & Bingham foolishly had their JeffCo stooge, Judge Carole Smitherman, seal the Newsome Conspiracy Case since its inception.
Smitherman created a secretive "Star Chamber" where alleged criminal acts, perjury, and unsavory conduct were hidden from public view; and all hearings, pleadings, and oral arguments were held in secret with no public notice.
Soon though the light will shine openly on what Balch's Star Chamber hid and what travesties Smitherman engaged in since the Writ of Mandamus filed in June of 2018.
Cooper was fired by Balch in March of 2017 and at that time Balch should have settled the Newsome Case.
Instead, Balch has let the saga grow, with over 1.7 million views on Facebook alone.
The forthcoming appellate brief may expose Balch & Bingham to further embarrassment and criticism.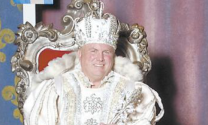 Allegedly vowing to fight to the death, Schuyler Allen Baker, Jr., Balch's dinosaur partner and pseudo king of high society, appears to have stupidly turned a fight of honor into an act of suicide.
While Balch's criminal and unsavory conduct is mocked and laughed about in private circles, Newsome is respected for his integrity,  perseverance, and absolute belief in the rule of law.
Balch's "ruining a rival" mindset has only ruined them, and made Newsome a household name in the legal community while Clark A. Cooper is selling mattresses.
Who would have thunk?