Corruption breeds stupidity.
So what can campaign contributions buy you? Bias? Favoritism? Court orders that are way out of order?
In the massive Writ of Mandamus calling on Judge Carole Smitherman to be recused and her 44 retaliatory orders be stricken, Burt Newsome provides indisputable evidence of courtroom bias, flagrant injustice, and judicial sloppiness that even justices of the Alabama Supreme Court will roll their eyes when they read it.
In one of her retaliatory orders, Smitherman throws out two of the most critical affidavits showing that the single phone number connecting the alleged co-conspirators was indeed a pre-paid cell phone number. She writes that "they wree [sic] submitted after the deadline for discovery…."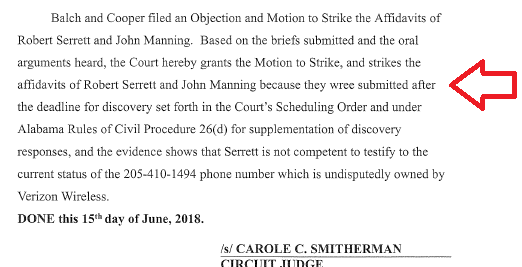 Wrong!
As Newsome's Writ states that the affidavits were due on October 10, 2017:
"Plaintiffs, out of an abundance of caution, filed both the affidavits of Robert Serrett and John Manning on October 10, 2017 based on the earlier Order of Judge Smitherman and the dates agreed amongst the parties…." 

Both affidavits were in compliance with the retroactive order, but Judge Smitherman still struck the affidavits as untimely anyway. A review of the affidavit filing stamp shows that they were indeed filed with the court on October 10, 2017 as required by Judge Smitherman's order.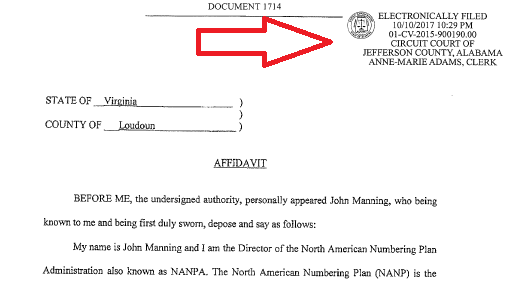 Judicial sloppiness, stupidity or corruption?  Maybe all three.
Corruption breeds stupidity. Read the orders here.