When the illustrious Schuyler Allen Baker, Jr., General Counsel of Balch & Bingham, vowed in 2017 that he would "fight to the death" before resolving the Newsome Conspiracy Case, he was affirming what Claiborne Seier (above, left) allegedly vowed to Burt Newsome in 2012: Newsome would be destroyed for pursuing a criminal case against Seier's brother Alfred Seier, who pulled a gun on Newsome.
In October of 2020, Baker died.
Now, late last month, Claiborne Seier died.
Balch justified their actions against Newsome by claiming in court documents that Balch had the right to "ruin a rival."
Instead, Balch ruined themselves.
Eventually, with a rigged, compromised, and corrupt judicial branch, Balch, Claiborne, and others won a $242,000 judgment against Newsome.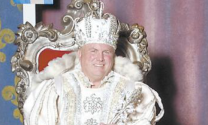 But Balch lost 18 of 18 top clients and lost income in the aggregate of up to $100 million.
Top money-making attorneys and legacy partners have left Balch these past 5 years, apparently destroying specific practice groups.
Yet, Balch stupidly appears to slap itself on the back for "beating" Newsome in an unconstitutional and secretive Star Chamber.
Mark A. Crosswhite, the disgraced ex-CEO of Alabama Power, foolishly bit the forbidden fruit when the Oompa Loompa of Alabama politics, Joe Perkins allegedly told him falsely that we, the CDLU, had received enormous amounts of resources to attack Southern Company and its subsidiaries.
The $2 million grant the CDLU received in 2019 (which had nothing to do with Balch & Bingham, Alabama Power, Matrix or their competitors) caused them to defecate rainbows. 🌈
The grant was related to our two decades of healthcare and consumer protection advocacy.
But the smear artists, hired whores, and envelope journalists did not care.
The lie worked and Southern Company foolishly spent millions in surveillance efforts, fear and intimidation tactics, and a smear campaign against us, the CDLU, and Newsome.
Some of these acts included criminal misconduct and felonies.
Crosswhite, the "most powerful man in Alabama, " was ousted in November.
And now another alleged conspirator has died.
Another carcass joins the disgraced pile of stooges, cronies, consultants, and fools who drank the Kool-aid or bit the forbidden fruit in the Garden of Balch-landia.
Surreal some may say. Surreal.