Tuesday night the anointed candidate for U.S. Senate of the Alabama establishment failed miserably and could not garner 50 percent of the vote to win the nomination outright. She now faces a stiff runoff election.
The Three Stooges (Balch & Bingham, Alabama Power, and Drummond Company) are backing the anointed one: Katie Britt for U.S. Senate in Alabama.

Stan Blanton, Managing Partner at Balch; Mark A. Crosswhite. CEO and Chairman of Alabama Power; and Richard Mullen, President of Drummond Company, each gave the maximum allowed federal contribution to Britt.
Katie Britt is a government-made millionaire, having made over $600,000 as a congressional staffer according to LegiStorm.com. Because she served as Chief of Staff to U.S. Senator Richard Shelby, Britt was catapulted over to the Business Council of Birmingham when Billy Canary was ousted. She earned over $369,000 for part of the year in 2019, according to ProPublica.org. Based on previous filings, records indicate that in 2020 she may have earned near or in excess of $600,000.
With an alleged obstruction of justice probe against Alabama Power and growing multi-state probes of the Matrix Meltdown, will Katie Britt "shield and protect' the Three Stooges like former U.S. Senator Luther Strange?
The rebirth of the North Birmingham Bribery Scandal put the Three Stooges in a panic in late 2020. Ex-Drummond executive David Roberson's $75 million civil lawsuit caused the Three Stooges to move the trial to a secret Star Chamber, hidden from public scrutiny or discussion.
Now the feds are looking at alleged misconduct involving the usual cast of undesirable suspects.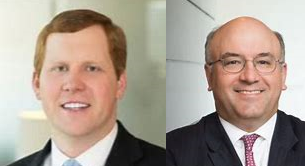 Two key witnesses from the North Birmingham Criminal Trial in 2018 were two ethics and government affairs attorneys from Balch & Bingham, Greg Butrus and Chad Pilcher. Pilcher dropped a bomb when he testified that he had warned ex-Balch partner Joel I. Gilbert that they may have broken the law.
According to David Roberson in an article in The Washington Post, at least 21 Balch & Bingham attorneys were involved in the North Birmingham matter. And according to media reports, Pilcher, Gilbert and Balch partner Greg Butrus were exchanging emails in 2014 about the ethics of the matter.
And guess what now?
Britt has received political contributions from both Butrus and Pilcher.
Ethical. So damn ethical.
Don't you say Katie? Our dear millionairess?