The Mexican farmer has been made whole due to the exemplary and outstanding professional work of Burt Newsome.
Balch & Bingham stooges allegedly tried to steal the lucrative attorney services of Newsome Law and defame sole-practitioner Burt Newsome almost a decade ago.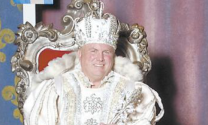 Schuyler Allen Baker, Jr., former General Counsel for Balch, vowed to fight to the death before settling the Newsome Conspiracy Case. The case is active and alive, and awaiting more indictments after which a federal civil RICO lawsuit will be filed.
Baker sadly died of cancer in 2020.
We, the CDLU, met Newsome five and a half years ago and our advocacy campaign for justice, inherent goodness, and the reform of the legal profession was launched in 2017.
In 2020, Newsome agreed to help us, the CDLU, take on the biggest financial institutions in the United States on behalf of senior citizen Mexican nationals.
This last week, Newsome landed a devastating blow to Morgan Stanley.
Investment News reports:
Finra arbitrators ordered Morgan Stanley and a former financial adviser at the firm to pay $160,000 each in damages to a Mexican farmer for allegedly making inappropriate recommendations about risky investments.
Carlos Ramon Tapia Sanchez, a farmer in Hermosillo, Mexico, sold his operation in 2015. The next year, he invested the proceeds in junk bonds that didn't fit his risk profile that were pushed by his long-time broker, according to Sanchez's attorney, Burt Newsome.
Sanchez worked with Morgan Stanley registered representative Francisco Javier Valenzuela in the firm's Tucson, Arizona, office. Sanchez lost about $368,000 on the investments, Newsome said.
Sanchez filed an arbitration claim against Morgan Stanley on Oct. 21, 2020, and against Merrill Lynch on Feb. 10, 2021. Valenzuela left Merrill Lynch in 2015 to join Morgan Stanley. In his claim, Sanchez cited elder abuse, misrepresentation and failure to supervise, among other causes of actions.
A three-person Financial Industry Regulatory Authority Inc. arbitration panel found Valenzuela liable for misrepresentation, manipulation and fraud, according to a May 26 arbitration award. The arbitrators found Morgan Stanley liable for negligence and failure to supervise. Valenzuela and Morgan Stanley were each ordered to pay Sanchez $160,000 in compensatory damages.
They held Morgan Stanley and Valenzuela jointly and severally liable for $10,000 in attorneys' fees, resulting in a $330,000 total award for Sanchez, who had sought $357,622 in compensatory damages and attorneys' fees.
Newsome also engaged in a successful but confidential mediation last year. The Mexican farmer has been made whole due to exemplary and outstanding professional work of Burt Newsome.
While Balch goons allegedly tried to destroy Newsome, his practice has only grown stronger while Balch has lost millions in the aggregate.
While Balch stooges allegedly engaged in elderly abuse of Mrs. B and others, Newsome tackled the abuse of senior citizens head-on.
While Balch cronies, like Alabama Power, have allegedly used and abused the Alabama legal system for their own personal gain, Newsome utilized FINRA's regulatory protections to seek justice and help a farmer who thought he had lost everything.
There is hope for inherent goodness and justice. The retired Mexican farmer has seen it and so will others.
Un aplauso fuerte para Burt Newsome. Te queremos, Burt, te queremos!