Why would a silk-stocking law firm like Balch & Bingham defend this alleged conspiracy to the death instead of settling the matter?
[This post was originally published on October 4, 2018. With the loss of millions in legal fees, the exodus of money-making partners, the termination by 18 of 18 major lobbying clients in Washington, D.C.,  and Balch's reputation in shambles, this post is almost prophetic and most relevant today.]
When we first read the Newsome Conspiracy Case court documents in late 2016, we thought Schuyler Allen Baker, Jr. a/k/a Notorious SAB was a young, junior attorney because of some of the sloppiness in the pleadings filed by Balch & Bingham.
In May of 2017, when Balch & Bingham lied about us, the CDLU, in a court pleading, we thought the young, junior attorney had dropped the ball by giving us instant credibility. We called the lying act "Stupidity at its Highest."
We eventually learned that Schuyler (pictured, upper left) in fact was not a junior attorney, but is a senior partner, a dinosaur at Balch & Bingham.
What we couldn't understand was:
Why would Schuyler put the entire firm at possible risk over the alleged criminal and unprofessional actions by a former partner, Clark A. Cooper, (pictured, upper right) who was fired in early 2017?
Why did Schuyler foolishly fight tooth-and-nail for a secretive Star Chamber at the height of two federal probes?
Why has Schuyler kept the damaging Newsome Conspiracy Case alive and thriving for four years without even considering settling the matter?
Why would Schuyler possibly allow Balch and their clients to be probably involved in one or even two civil RICO lawsuits over the next four or more years?
The answer was given to us recently: his father, a distinguished World War II pilot, had been an esteemed and respected partner at Balch & Bingham. Schuyler A. Baker, Sr. was, at one point  "Of Counsel" to the firm, and before 1985 the firm was known as Balch, Bingham, Baker, Hawthorne, Williams & Ward.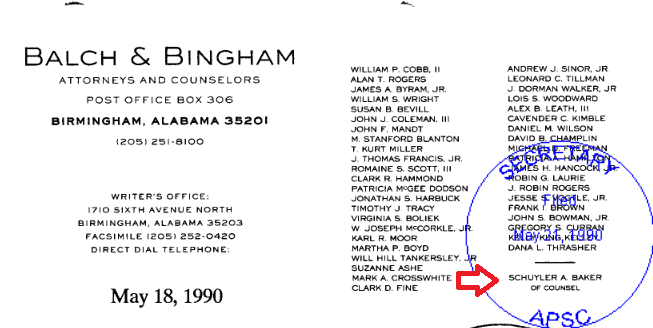 Although we won't get into the psycho-babble of father complex, we believe that loyalty—family loyalty—to the firm has blinded Schuyler, Jr. to the modern realities of employee exodus and mobility, and dilemmas caused by alleged racist or unscrupulous corporate conduct.
Getting to the nuts and bolts, the Newsome Conspiracy Case is about the unjust targeting, wrongful arrest, and defamation of Burt Newsome, a sole-practitioner attorney who services banks.
Balch & Bingham allegedly wanted to steal Newsome's lucrative business assisting and servicing banks with legal services including collections.
Besides Schuyler Allen Baker Jr., why would a silk-stocking law firm like Balch & Bingham defend this alleged conspiracy to the death instead of settling the matter?
A year ago, Balch said they would adhere to the highest standards in the legal profession. The Newsome Conspiracy Case is actually an example of the worst in the legal profession.
Nothing appears to have changed except for the criminal conviction of Balch &  Bingham partner Joel I. Gilbert and damaging revelations of the targeting of poor black children by Gilbert and his paid "consultants."
Ironically, we also learned that Schuyler's father (pictured below, seated, bottom right) was also a co-founder in 1964 of Central Bank, what is now known as BBVA Compass Bank, a current and valuable Balch client.