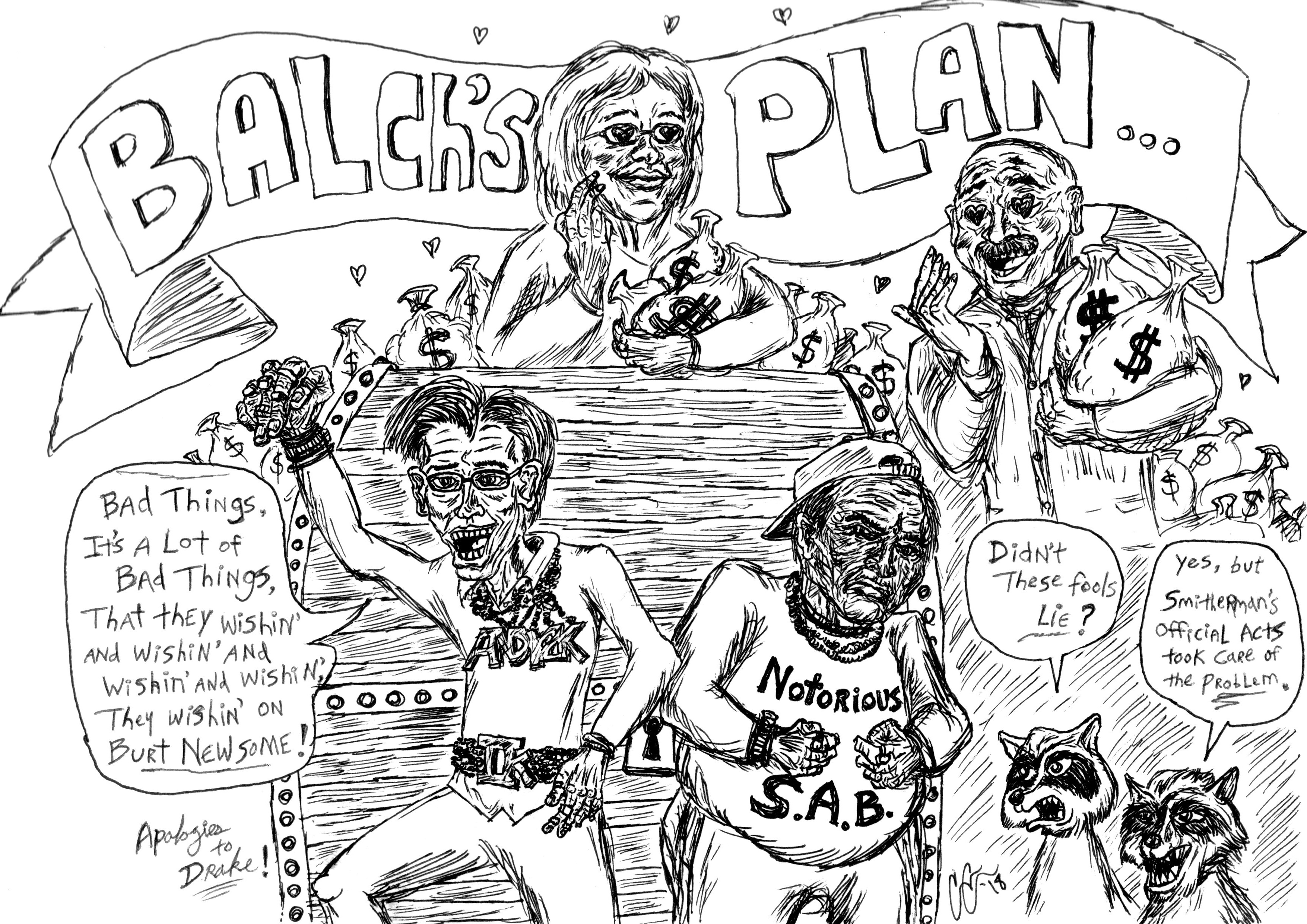 Exactly one year ago today, we wrote about Balch & Bingham gagging on their own lies and loss of control after they filed a motion that eventually lead to the creation of their own, private, secretive Star Chamber in Jefferson County, Alabama.
A year later, Balch's conduct in the North Birmingham Bribery Case is the talk of the legal community. Balch's reputation appears to have been flushed down the toilet on Friday night.
The corrupt web of influence, the buying of politicos, the hiring of consultants, the ghost-writing of letters, the use and abuse of our public institutions are all topics surrounding the discussion about Balch & Bingham's conduct.
With the conviction of now-former Balch equity partner Joel I. Gilbert for bribery, the conduct by Balch on other cases is coming to light.
Was this Balch's plan? Never.
Balch is so thin-skinned they actually had one of their outside lawyers, Andrew "Andy2K" Campbell, cut and paste one of our satirical cartoons in a pleading before the Alabama Supreme Court regarding the Newsome Conspiracy Case currently taking place in the Star Chamber.
A first-time contribution according to state digital records, Andy2K had donated $2,000 in February to the presiding judge of the secretive Star Chamber, Judge Carole Smitherman. Andy2K took over as lead attorney for Balch shortly thereafter. Schuyler Allen Baker, Jr., a Balch partner, was the lead attorney before Andy2K.
Smitherman and her husband State Senator Rodger Smitherman have received over $30,000 in campaign cash from entities tied to Balch, Balch clients, or the Newsome Conspiracy Case.
Burt Newsome was wrongly targeted, falsely arrested and defamed as Balch allegedly wanted to steal his lucrative business providing legal services to banks.
A father of four young children who has fought it out with Balch & Bingham for over 3 and a half years, Newsome, like the environmental group GASP, appears to have been railroaded by a number of Balch cronies and agents.
For now, we offer another satirical cartoon highlighting the new hip-hop sensation of Birmingham: Andy2K and the Notorious SAB. And their biggest, adoring fans? Her honor and her hubby.
Drake, eat your heart out.