Will more partners soon exit stage right?
With Balch & Bingham now directly associated with alleged unsavory, unethical and criminal conduct, the embattled law firm has been battered this year.
According to FEC data, the first six-months of this election cycle, Balch & Bingham's Federal Political Action Committee has seen contributions plummet 36 percent compared to the same six-months of the previous election cycle.
Raising a mere $32,545 compared to over $50,000 two-years ago, the lack of receipts could possibly mean:
1. That the dozen or more money-making partners that dumped Balch for greener pastures could have also tumbled the number of PAC-paying employees;
2. That Balch & Bingham's profit and salaries may have been impacted to a point that donating to a PAC for some employees has become more cumbersome.
Who knows what the whole-truth is.
Switching gears, there is even more bad news for Balch.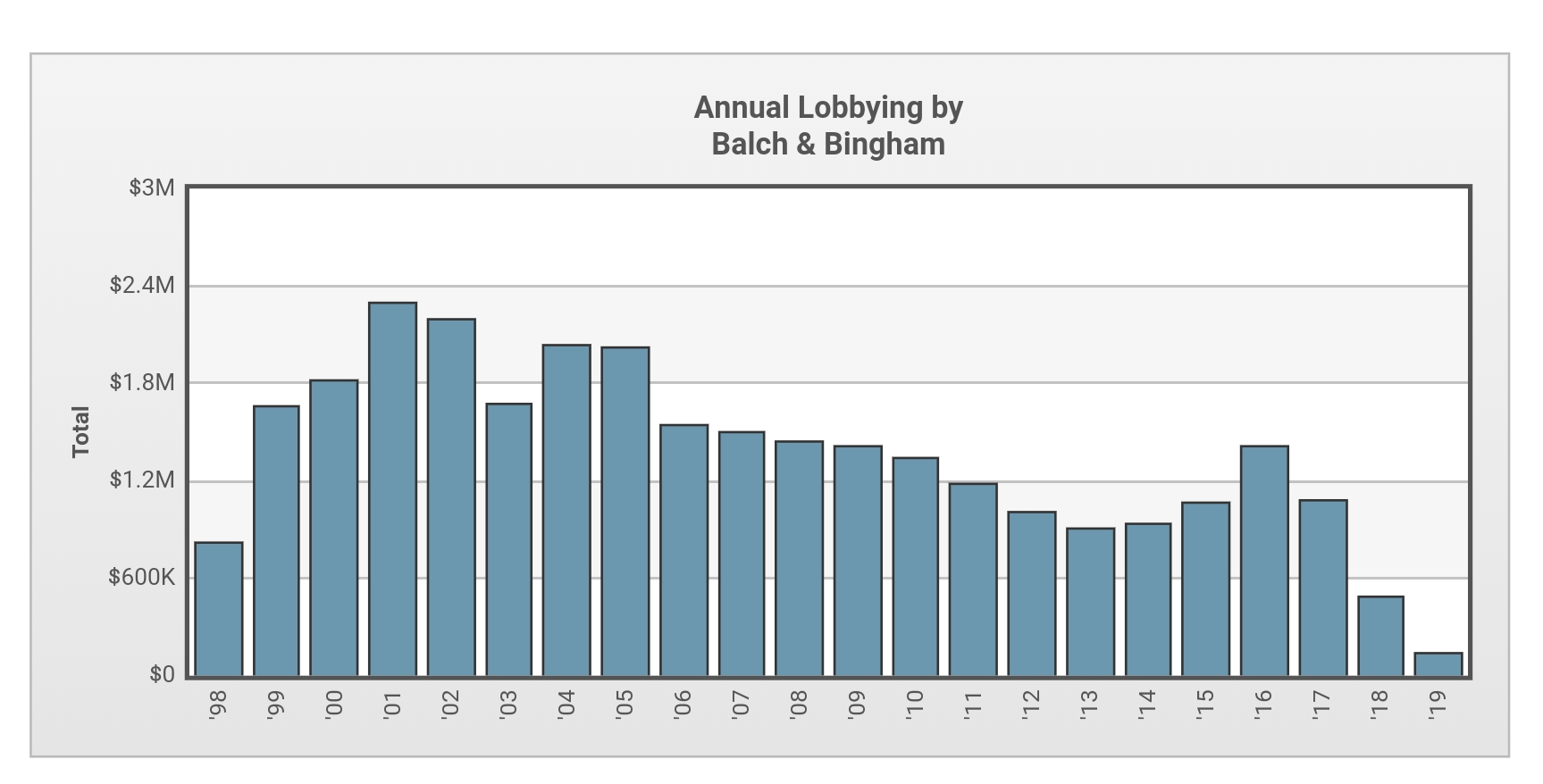 Our sources at Balch & Bingham are concerned about DC lobbying that has been limited to maybe one or two active clients now, since JeffCo terminated the firm this past April.
According to the Center for Responsive Politics, the firm has three clients but one appears to have not engaged or paid the firm anything as of July 24th of this year.
Northern Star Generation has paid Balch only $30,000 this year, compared to $160,000 last year, but the corporation told us directly that they "continue to use Balch & Bingham.  Our relationship has remained unchanged."
Marathon Petroleum appears to be the only client actively paying Balch & Bingham six-figures, $100,000 through July.
In 2015, 2016, and 2017, Balch made over a million dollars a year in lobbying fees out of Washington, D.C. Last year, the firm made a mere $480,000.
So far in 2019, the D.C. lobbying efforts have only generated $140,000 through July 24th, according to the Center for Responsive Politics.
Some call Balch's D.C. lobbying "near death;" others jokingly say "in hospice care." As we reported earlier this year, 17 of 18 major DC lobbying clients terminated the firm, costing Balch millions in fees.
And who is to blame?
Balch & Bingham's arrogant leadership in Birmingham that appears to be more concerned about their egos than confronting the truth, and apologizing.
What could the dire consequences be for the embattled firm?
Like Richard E. Glaze, Jr.. of Atlanta, Balch partners of high-caliber and distinguished careers in other markets may break-off, start their own firm, or look for greener pastures, too.
Who wants to be associated with a firm whose Birmingham partners appear to have engaged in judicial fraud, the suppression of poor African-Americans, money laundering, bribery, and a staged arrest?
What say you Lucien?