In Alabama, the plantation mentality wants everyone to stay in their place and to accept the injustice or unsavory conduct—quietly.
Even if you are a success story and not from the gentry class, the people with the plantation mentality won't accept you, especially if you are African-American.
If ex-Drummond Vice President of Government Affairs David Roberson sings to the feds, who will be hurt the most in this evolving Greek tragedy?
Alabama Power.
And who would be in the DOJ's cross-hairs? Most likely Mark Crosswhite, the current CEO of Alabama Power and a former long-time Balch & Bingham partner.
In 2016, two-years after he was named Alabama Power's CEO,Crosswhite told AL.com, ""For years I had been deeply involved in helping with the decision-making process, in offering recommendations, courses of action, but I was never involved in the final decision-making and when the chance came to cross over from the legal side to the business side that is why I did it."
So Crosswhite likes to make decisions. Final decisions.
Investigators may ask:
Did Crosswhite make the final decisions, courses of action in regards to the corrupt AstroTurf entity Alliance for Jobs and the Economy (AJE) that laundered money to bought-and-paid for politician Oliver Robinson?
Did Crosswhite make the final decision to send Balch lobbyist Jeffrey H. Wood (working on behalf of Alabama Power) up onto Capitol Hill to get the inside scoop on the North Birmingham suppression effort?
Did Crosswhite make the final decision to support the effort to suppress and discourage poor African-Americans in North Birmingham from testing their toxic and contaminated property?
Was Crosswhite in any way "deeply involved" in the decision to have Balch & Bingham target and harass GASP, the tiny but vocal environmental group?
Did Crosswhite know at any time that AJE money was going to bribe Oliver Robinson directly?
Did Crosswhite make the final decision, the alleged deal that prevented federal prosecutors from calling anyone from Alabama Power in the North Birmingham Bribery Trial last year?
Crosswhite, we are told, loves to be the most powerful man in Alabama.
He relished the ouster of Bill Canary from the Business Council of Alabama last summer (which Crosswhite spearheaded).
But the foolish plantation mentality of Alabama has no standing before a federal grand jury or congressional hearing.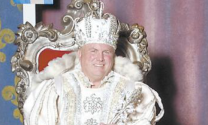 Crosswhite, who has deep roots in Alabama from the early 19th century according to his bio, should be furious at Balch & Bingham for exposing Alabama Power to possible criminal and civil RICO actions because of the ego of Schuyler Allen Baker, Jr.—a dinosaur partner at Balch (pictured left).
Schuyler's sheer stupidity of fighting to the death against Burt Newsome, a commoner not from the gentry class of Mountain Brook, has wrecked havoc on the firm. Newsome is also representing David Roberson in his $50 million civil lawsuit against Balch and Drummond Company.
Fighting those with a plantation mentality, Newsome has refused to remain silent and subservient. And even many of the powerful are respecting Newsome for not taking it on the chin.
In the forthcoming weeks,  Balch's most important client and former partner may feel the scorching heat of the U.S. Department of Justice simply because Balch wouldn't bring closure with a commoner.
Stupidity at its highest. Even a seasoned decision maker like Crosswhite would agree.