After nearly two decades as a top partner at Balch's Atlanta office, Christopher S. Anulewicz has dumped the embattled law firm. He has joined the law firm Bradley.
Two years ago, we asked, "Will the Anulewicz Family Dump Balch & Bingham?" Anulewicz's wife is Georgia State Representative Teri Anulewicz (D).
We applaud Chris and Teri for making the intelligent decision.
In November of 2017, we wrote about two honorable and respected Balch & Bingham partners who were fighting corruption in Georgia, Anulewicz and Mike Bowers, both based in Atlanta.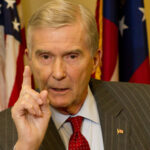 We asked at the time, "Will the Good Guys Bail on Balch?"
A West Point graduate, Mike Bowers, a former Attorney General for Georgia, as we predicted, dumped Balch in 2020 and left the embattled firm. Bowers moved over toJohnson Marlowe, a respected boutique law firm.
Anulewicz took three years longer but was finally lured away and picked off by Bradley, one of the fastest growing law firms in the Southeast. Bradley has attracted and hired many top-notch Balch partners, including some of their money-making attorneys from the banking and financial services practice.
Rumors are that Bradley wants to buyout Balch, and is in the midst of trying to bring over top partners in Balch's energy and environmental law practices.
With the rebirth of the North Birmingham Bribery Trial, a highly-anticipated civil RICO action, and the fallout over the Matrix Meltdown and Southern Company's million-dollar fear and intimidation campaigns, what sound seasoned lawyer would want to be associated with the embattled law firm?
As we prophetically wrote in January of 2020:
Like vultures, the competitors of Balch & Bingham are eyeing specific practice groups and talent at the embattled firm, ready to scoop up veteran partners and money-makers.
Hiring the best and brightest, competitors may begin to target Balch's satellite offices in other states and pick up some terrific talent….