Jeff Peoples and Zeke Smith should be immediately fired for hiring an antisemite apologist.
The anonymous financial records and documents that we, the CDLU, received show that Southern Company/Alabama Power paid Frank Matthews thousands of dollars in the summer of 2020 in the campaign of terror and intimidation against the CDLU, the Forbes Family, and Burt Newsome.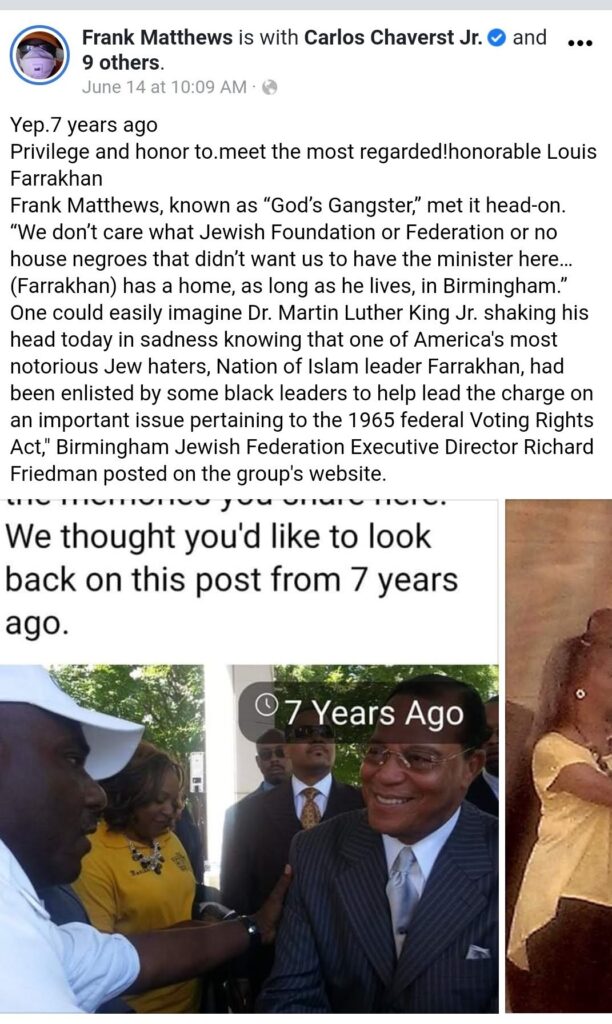 The expenditures, paid by Matrix, LLC, were approved by Zeke Smith, Executive Vice President of External Affairs at Alabama Power.
Matthews, who self-proclaimed himself as "God's Gangster," defended and praised Louis Farrakhan, the antisemite and anti-white racist who came to Birmingham in June of 2013.
In the summer of 2020, on the seven-year anniversary of the visit, Matthews declared that it was a "Privilege and honor to meet the most regarded! honorable Louis Farrakhan" in a Facebook Post.
Matthews then spouts his own hate, writing, "We don't care what Jewish Foundation or Federation or no house negroes that didn't want the minister here."
And who did Matthews tag in that Facebook post dated June 14, 2020?
Carlos M. Chaverst Jr., the illustrious but easily distracted rebel-rouser.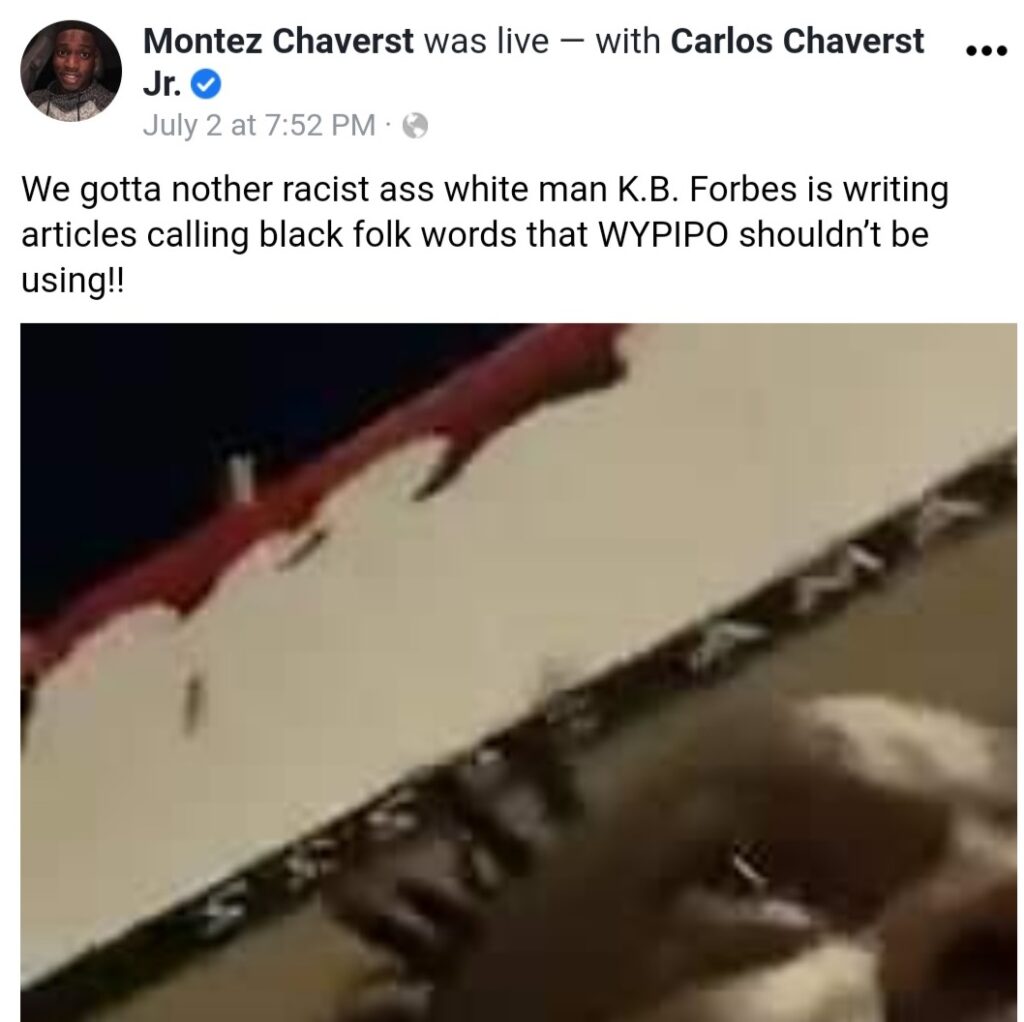 A little over two weeks later, Chaverst attacked K.B. Forbes, the Chief Executive Officer of the CDLU, as a "racist ass white man" on a Facebook post attached to a Facebook Live video where at the end of the video Chaverst rambles about the "white man" K.B. Forbes and talks about Forbes' home, while labeling him WYPIPO.
[Note: Chaverst had three Facebook profiles in 2020. The Montez Chaverst profile has since been deleted. ]
Two days later, on July 4th, the self-anointed Apostle Brenda Paige Ward, having rented a large van from Budget Rentals at the Birmingham Airport, showed up in Forbes' neighborhood and held a two-minute "shoot and scoot" fake protest adjacent to Forbes' home, terrorizing neighbors and Forbes' then-eight-year-old daughter who cried thinking they were killing an innocent African American like George Floyd.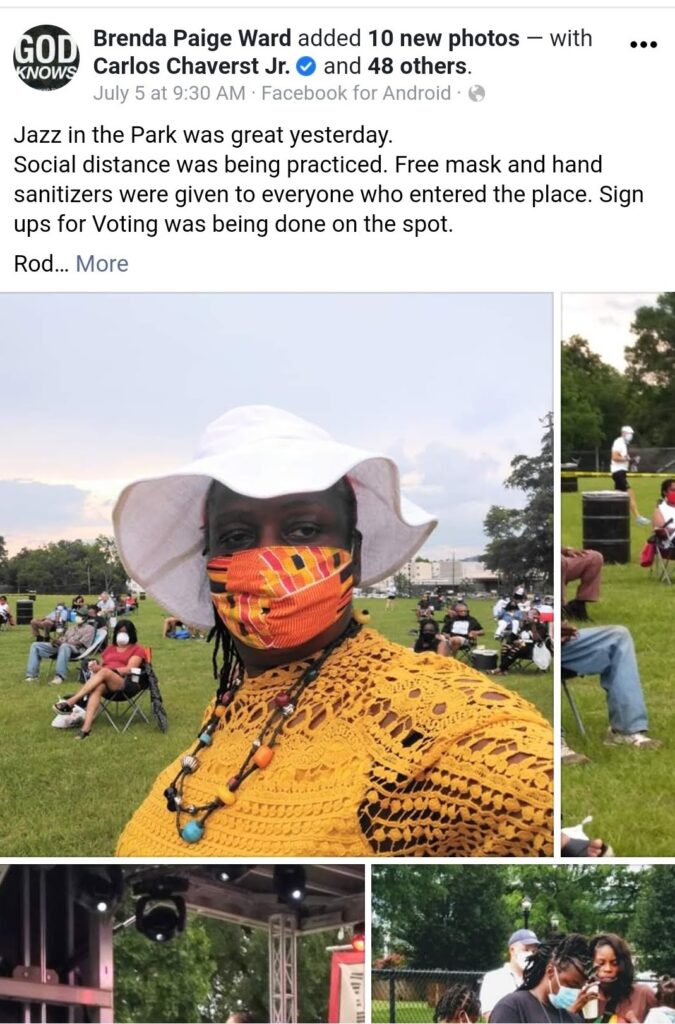 The next day, the Apostle posted that she enjoyed going to Jazz at the Park on Independence Day.
And who did the Apostle tag? Carlos M. Chaverst, Jr.
Frank Matthews appears to have utilized Chaverst and the Apostle in the campaign of intimidation and terror, and Southern Company paid him well.
Matthews and others demonstrated total ignorance about Forbes, who lived in Chile as a child, is the son of a Hispanic immigrant, and is fully bilingual.
Forbes and the CDLU were working with the U.S. Department of Justice as informants about the misconduct in Alabama, and the criminal enterprise did not like the fact.
Forbes had dispatched numerous letters and provided hundreds of pages of documents, including the jaw-dropping photos of disgraced ex-U.S. Attorney Jay E. Town and ex-Alabama Power CEO Mark A. Crosswhite chugging cocktails together.
By these acts, Southern Company was trying to silence, intimidate, and threaten Forbes and his family.
The antisemite booster was then paid in late August of 2020 to put up signs for a website that falsely claimed that Burt Newsome was a rapist and that Forbes was defending a rapist.
Southern Company appears to have wanted to discourage and intimidate Newsome from defending or continuing to pursue ex-Drummond Executive David Roberson's $75 million civil lawsuit against Balch & Bingham and Drummond, while discouraging Forbes and the CDLU from reporting about the Roberson case or defending Newsome in the Newsome Conspiracy Case.
Jeff Peoples, who approved the expenditure and contract that was used to terrorize the Newsome Family, has since been promoted as CEO and Chairman of Alabama Power.
Jeff Peoples and Zeke Smith should be immediately fired for hiring an antisemite apologist, being engaged in nefarious and criminal misconduct, and for contributing to a criminal enterprise that will be held accountable in a much-anticipated civil RICO lawsuit.
Matthews even called the CDLU and left a vulgar message for us.
An apostle, a rebel-rouser, and an antisemite booster meet in a bar…
You can't make this stuff up.