Earlier this month we reported how Alabama Power's CEO Mark Crosswhite could possibly be under scrutiny by the U.S. Department of Justice.
Now we, the CDLU, are taking it a step further.
We are asking  the Office of the Inspector General of the U.S. Department of Justice and the House Judiciary Committee to review the alleged secret deal that prevented federal prosecutors from calling anyone from Alabama Power in the North Birmingham Bribery Trial last year.
Alabama Power donated $30,000 to the corrupt AstroTurf entity Alliance for Jobs and the Economy (AJE) that laundered money to bought-and-paid for politician Oliver Robinson.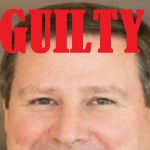 Yet Alabama Power was the only donor to AJE not to testify in the criminal trial that convicted Balch-made millionaire and equity partner Joel I. Gilbert.
Alabama Power is the sister-wife, siamese twin of embattled law firm Balch & Bingham.
As the most powerful man in Alabama, Crosswhite and other top executives at the utility are all former Balch partners.
But even the most power or one of the largest employers in Alabama cannot be above the law.
Pulling strings, at the end of the day, helps no one except investigators.