Another headache for Balch & Bingham.
We have been reviewing closely the contributions given to Smitherman.  And something smells.
No, we are not talking about contributions to Judge Carole Smitherman who created an unconstitutional and secretive Star Chamber in the Newsome Conspiracy Case.
We are talking about her husband, State Senator Rodger Smitherman.
We looked at several different contributions given to Senator Smitherman after the co-conspirators, including Balch & Bingham, were all linked together in the Newsome Conspiracy Case by a single burner cell phone number in an amended complaint filed on June 30, 2017. We have found several questionable contributions, but this one is one of the most surprising.
In mid-August, Sharyn Lawson, the wife of the gentleman who had pulled a gun on Burt Newsome, was deposed. She is the sister-in-law of one of the alleged co-conspirators.  Her son was also deposed.
Both of them were represented by the esteemed  managing partner at Hare, Wynn, Newell & Newton, D. Leon Ashford.
On or about August 31, 2017,  the sealing of the entire Newsome Case since its inception and the creation of a Star Chamber where court proceedings are done with no public access or information available were put into effect.
On that very same day,  Senator Smitherman listed receiving a donation from Hare, Wynn, Newell & Newton for $2,500, according to campaign disclosure reports. (See actual documentation here.)
Just a coincidence?
Sharyn Lawson, a highly respected former paralegal at Hare, Wynn, Newell & Newton, worked for the law firm for decades.  No wonder she and her son were represented by the managing partner.
A review of 131 contributions made by Hare, Wynn, Newell & Newton since 2013 shows this is the first contribution they made to Smitherman, according to the state's digital records.
Why now? Why Smitherman? What were they trying to influence? And who authorized or signed the check?
Continuing Education Connection
Now comes along Shuyler Allen Baker, Jr. the same Balch partner who lied about the CDLU in court pleadings in the Newsome case and who has donated thousands to BIZPAC, a political action committee funded in part by Balch partners that funneled over $15,000 in campaign contributions to Judge Smitherman.
His ego appears to be one of  the driving forces in the ongoing  Newsome Conspiracy case that has suffered several embarrasing, self-inflicted mistakes.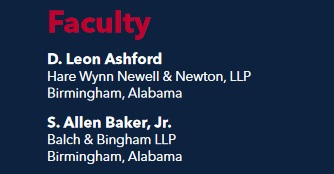 He strongly advocated for the Star Chamber and behold, he is an acquaintance of D. Leon Ashford, the managing partner at Hare, Wynn, Newell & Newton, appearing together last year at a Continuing Legal Education institute sponsored by the  Cumberland School of Law at Samford University.
Again we ask,  just a coincidence?
The stench is awful.
State criminal or ethics investigators should probe the matter and answer the question,  "Was this an unethical contribution to allegedly influence a judge's impartial conduct through her husband, or not?"
And Senator Smitherman, for the love of his wife,  should immediately refund  the contribution back to Hare, Wynn, Newell & Newton.
Today.