"If you are not greedy, you will go far. You will live in happiness, too."

Oompa Loompa song, Willy Wonka and the Chocolate Factory
"Sloppy Joe" Perkins, the founder of Matrix, the obscure political consulting firm that is in the center of an ugly two-state divorce between Perkins and his once-protégé "Jittery Jeff" Pitts, threw a tantrum last week dispatching a rambling, disconnected statement to yellowhammernews.com falsely accusing us, the CDLU, of conspiring with DonaldWatkins.com and one Lisa Swoboda, a cavalier dog rescuer, of defaming him.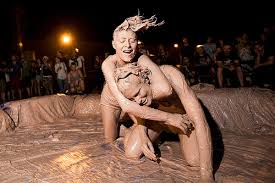 Maybe "Sloppy Joe" didn't like the photo of the two mud wrestlers from our last post. The bottom line is we, the CDLU, are reporting the news (and mudslinging) covered by DonaldWatkins.com, the Energy and Policy Institute, The Guardian, the Orlando Sentinel, and the Florida Times-Union.
"Sloppy Joe" appears to have lost control of his two-state divorce and is now foolishly threatening to file a SLAPP suit (Strategic Lawsuit Against Public Participation) against us, a public advocacy group. Even the knuckleheads at Balch & Bingham were smarter than Perkins and studied the issue before strongly deciding against it.
Matrix clients like Alabama Power and Balch & Bingham and related allies like Drummond Company are probably in disbelief that Perkins appears to have become unhinged.
Will Perkins' lawyers "Andy2K" Campbell and Cason M. Kirby be able to calm their client down?
In his rambling statement, "Sloppy Joe" talks about another conspiracy not involving the dog rescuer. He alleges:
Since as early as 2010, Jeff Pitts has [allegedly] operated off-the-books rogue operations using Matrix resources that [allegedly] embezzled money from the company and presented clear and provable harm to Matrix clients. While CEO of Matrix, Pitts, along with other employees who were part of his conspiracy, [allegedly] set up corporate entities to which they [allegedly] channeled funds from Matrix clients in Florida. During this time, Pitts and his co-conspirators [allegedly] set up as many as eighteen 501(c)4 organizations through which they [allegedly] laundered in excess of $50 million. All of this was done without my knowledge or the knowledge of any of the leadership of Matrix.
We were able to recover the data from the server and archived comprehensive computer backups of computers used by Pitts and others with files dating back at least 10 years. We recovered nearly one million files. We immediately turned this data over to our lawyers who helped us conduct an internal investigation of the material.
Eighteen entities laundering over $50 million!
We, the CDLU, will make sure the Office of Tax-Exempt Entities at the IRS and the U.S. Department of Justice learn about this and encourage them to reach out to Perkins' lawyers (Andy2K and Cason M. Kirby) to obtain copies of these "nearly one million files."
Now let us pause and reflect for a moment.
Sloppy Joe says it took him a decade to learn that "Jittery Jeff" was allegedly embezzling from Matrix, a decade to learn that up to 18 entities were allegedly set up to launder money, and a decade to learn that allegedly $50 million was laundered.
Were there no audits or internal controls set up in over a decade?
If so, this sloppiness is as bad as or worse than not having encrypted files in place when hand-written notes and secret, million-dollar contracts with Alabama Power were delivered to DonaldWatkins.com.
Even blaming a cavalier dog rescuer for his misfortunes, Sloppy Joe appears to have lost control and appears to be suffering strongly from little-man syndrome.
Sadly, the diminutive political consultant appears to have gone from one of the "biggest political power players" in Alabama to a joke of himself, an Oompa Loompa.