This early morning, Judge Tamara Johnson has denied Drummond Company's foolish attempt to stall discovery and video depositions writing:
"The Court further has considered the fact that discovery was stayed [for over 17 months], pending a ruling on the Defendants' Motions to Dismiss [which was DENIED on October 30, 2020]. The Court FINDS that any further stay of Discovery in this matter is unwarranted. It is ORDERED that the herein Discovery, for both Parties, is NOT STAYED and shall commence."
The order now means an avalanche of video depositions will begin to take place, and the mountain of documents and communications under discovery in ex-Drummond executive David Roberson's $75 million civil lawsuit will come due.
What does that mean?
The rebirth of the North Birmingham Bribery Case has erupted and a powerful jolt is being felt across the spectrum of the "most powerful" business leaders in Alabama.
We expect top Drummond Company executives and Board members to be subpoenaed for video depositions including ex-CEO Mike Tracy, current CEO (and former CFO) Richard Mullen, and of course, the illustrious but "confused" General Counsel Blake Andrews.
And the rebirth will most likely now include "unmentionable" Alabama Power leaders like former Balch partner and current CEO Mark A. Crosswhite and Alexia Borden, who headed government affairs at the time of the scandal.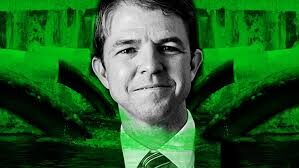 Jeffrey H. Wood, the former Balch lobbyist who was on Capitol Hill at the height of the scandal working on behalf of Alabama Power may also find himself reborn, and we ain't talking religion.
We would not be surprised to see video depositions of acquitted Balch leader Steven McKinney, Balch's extraordinary Spy-vs.-Spy Irving Jones, Jr., and of course Balch's COO David Miceli.
Expect executives and contributors tied to the money laundering entity Alliance for Jobs and the Economy (AJE) to be lined up for depositions while Trey Glenn may be asked for his first grand performance as a whistle-blowing opera baritone.
And disgraced ex-U.S. Attorney Jay E. Town, who had the balls to say the case was closed after the convictions of Roberson and Balch-made millionaire Joel I. Gilbert, may make an appearance at the rebirth over his alleged secret deal with Alabama Power and the photos of him slamming down libations with Crosswhite.
Reborn, for better or for worse?