The recovery of Burt Newsome has been truly amazing. Last week, he set aside a walker and is finally using a cane. His shattered leg and other injuries are healing well.
Last week, Newsome even appeared in person at the Jefferson County Courthouse, and on Saturday, he went to his son's soccer match.
Every single parent at the soccer match knew what happened to Newsome: he was nearly killed in what many believe could have been an attempt to silence him for good.
The word is out, penetrating all four corners of Alabama and beyond, and the biggest loser appears to be embattled law firm Balch & Bingham.
Several years ago Schuyler Allen Baker, Jr., the dinosaur partner and General Counsel at Balch, allegedly vowed to fight to the death against the Newsome Conspiracy Case.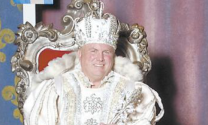 Although Newsome is still alive after a near-death experience currently under investigation, who really is dying?
Balch has lost numerous high-paying clients, money-making partners, and their reputation looks like it is in the toilet.
Baker's father, Schuyler A. Baker, Sr., was a long-time Balch partner, a staunch racial segregationist and part of racist Governor George Wallace's inner circle decades ago. Father Schuyler successfully built a fortune as founder of BBVA Compass Bank and as an esteemed partner at Balch & Bingham, whose reputation back in the day was once revered and feared.
And as Newsome recovers, Balch appears now to be limping along as competitors, we are told, fight for their clients, and clients reject the alleged institutional racism and unsavory conduct that has plagued the firm.
Maybe Newsome should let Schuyler Jr. borrow that walker before the firm stumbles accidentally into a grave.
Even Alabama Power CEO Mark A. Crosswhite, we are told, appears to be shaking his head in disgust.