What was Schuyler Allen Baker, Jr., a Balch & Bingham senior partner, thinking when he lied about us, the CDLU, in a court pleading in May of 2017 regarding the Newsome Conspiracy Case?
Did Schuyler really think his foolish and absent-minded scorched-earth fight would intimidate us?
Our phone calls, emails, letters, and outreach efforts to discourage companies from utilizing Balch & Bingham for lobbying efforts in Washington, D.C. has been a stunning success.
17 of 18 major clients since 2017 have dumped Balch & Bingham as their lobbyists on Capitol Hill, according to data provided from the Center for Responsive Politics from 2015 through 2018.
Southern Company, Balch & Bingham's top client, has even stopped using the firm on Capitol Hill.
Although Balch picked up two new clients, 2018 was their worst year ever since 1998, according to the Center for Responsive Politics.
In 21 years of lobbying on Capitol Hill, Balch & Bingham brought in a mere $480,000 last year, a drop of over 55 percent from the year before ($1.1 million) and only a third of what the firm took in in 2016 ($1.4 million).
The Newsome Conspiracy Case has cost Balch & Bingham millions.
The hemorrhaging of clients, money-making partners, and income is real.
Now Schuyler Allen Baker, Jr. and his lackeys are foolishly rejoicing because they had their stooge Judge Carole Smitherman smack Burt Newsome with $192,000 in redacted, unknown attorney fees.
Even a second-grader knows $192,000 in alleged bogus, unknown attorney fees (currently on appeal) compared to losses in the millions is a horrible business strategy that could only lead to financial ruin.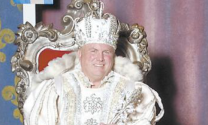 Schuyler's scorched-earth fight to allegedly "ruin a rival" appears to have only scorched his royal rear appendages and ruined Balch & Bingham's lobbying efforts in Washington, D.C.
Sound minds at Balch & Bingham must rise up—now, today, this very moment— and demand settlement on the Newsome Conspiracy Case before a civil RICO lawsuit brings the secrets of the House of Balch to the light.
As we have said before, the CDLU would like nothing more than to unplug this site if Balch & Bingham would settle the Newsome matter and apologize to the African-American residents of North Birmingham for Joel I. Gilbert's criminal conduct.
17 of 18 clients appear to have listened to us. What more will it take?