🔥🔥Update March 8, 2023: Espy was sentenced to 97 months in federal prison. Read more by clicking here.
According to an order signed by Jefferson County Judge Katrina Ross on December 13, 2021, ex-Balch & Bingham attorney Chase T. Espy waived his right to a preliminary hearing.
He probably did not want or need the media spotlight.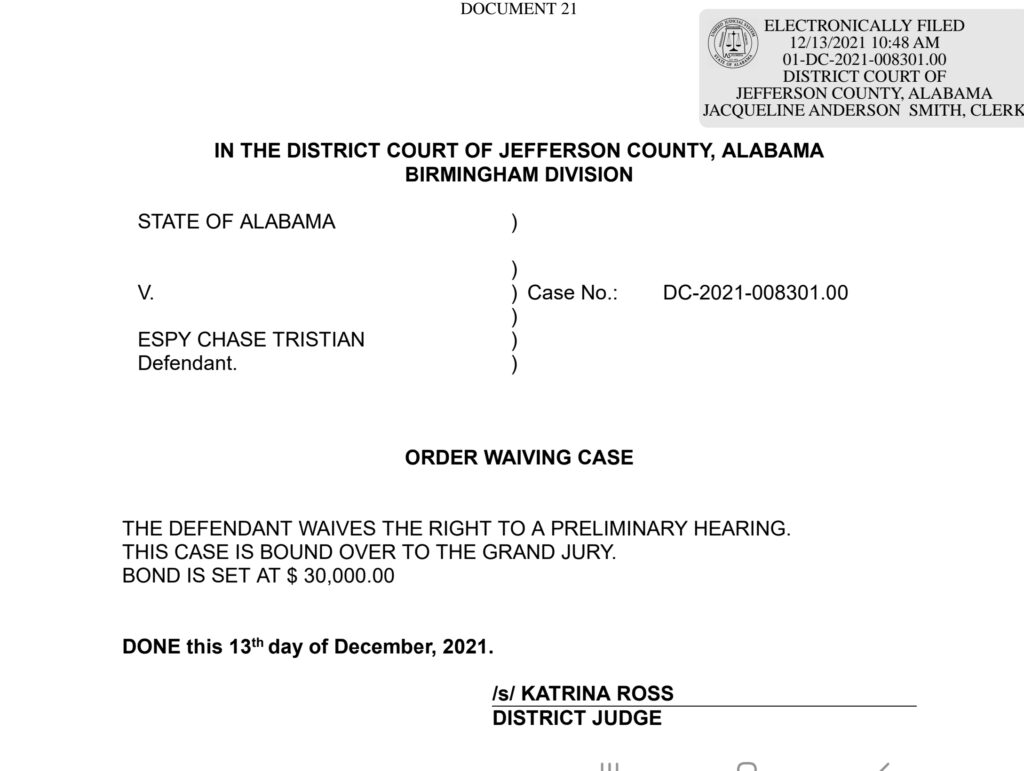 Espy will face a criminal trial this year.
According to allegations in his warrant for arrest from August, Espy is accused of "knowingly, with intent to commit an unlawful sex act, entice, induce, persuade, seduce, prevail, advise, lure, or order...a child…to meet the said Chase Tristian Espy…for the purpose of engaging in sexual intercourse, sodomy, a sexual performance, an obscene sexual performance, and/or any other sexual conduct…."
As we wrote after Espy's arrest:
The bottom line is children need to be protected from pedophiles and sexual predators, no matter what powerful positions or connections they may hold or have.
Balch & Bingham appear to be habitual liars who look like they may have obscured the ugly truth.
Balch admits they terminated Espy [in] September [of 2020]. What did Balch uncover and why would an eight year veteran of the firm be abruptly fired?
Did Balch fail to report despicable behavior or criminal acts to law enforcement authorities?
Espy was working for Alabama Governor Kay Ivey when he was arrested. She immediately fired him.
As we wrote last summer:
What in God's name was Balch & Bingham thinking by not warning Alabama Governor Kay Ivey about alleged child predator and former Balch associate Chase T. Espy?
After eight long years at the embattled law firm, Espy, according to Balch's own mouthpiece, was terminated in September of 2020. In April, just days after the alleged online solicitation of a child, Espy was hired as Deputy General Counsel to the Governor.
Balch should have warned the governor. But then again, maybe Balch believes that the law firm "owed no duty" to tell the Governor or her staff the truth.