Crosswhite and Alabama Power went a step too far.
Southern Company has a problem and his name is Mark A. Crosswhite, the CEO of wholly-owned subsidiary Alabama Power and the former partner of embattled and alleged racist law firm Balch & Bingham.
In 2016, two-years after being named head of Alabama Power, Crosswhite rejoiced in being the ultimate and final decision maker.
Now, today, Crosswhite appears to be overwhelmed and unable to make decisions as he sought a protective order in ex-Drummond executive David Roberson's $75 million lawsuit against Drummond and Balch & Bingham.
In the 22-page Tale of Two Marks, Alabama Power and Crosswhite gave concrete proof that the rebirth of the North Birmingham Bribery Case has caused considerable panic and stress, and that we, the CDLU, and our website BanBalch.com appears to have unnerved the so-called "most powerful man in Alabama."
But a closer examination of the Tale of Two Marks shows that Crosswhite and Alabama Power went a step too far.
Repeatedly, Alabama Power called the subpoena and discovery requests burdensome and irrelevant and claimed at times Alabama Power had "no involvement in these matters" or called the requests "baseless," even writing at one point that Alabama Power "has no information that will affect this factor."
Foolishly, in their pleading, Alabama Power even dismissed the lobbying on their behalf on Capitol Hill in 2016 by Balch & Bingham partner Jeffrey H. Wood regarding North Birmingham as "irrelevant."
But what about the rebirth of the North Birmingham Bribery Case?
In the Tale of Two Marks, they write:
"To be clear, each and every request to [Alabama Power] reflects an improper effort to re-litigate matters thoroughly investigated by federal law enforcement authorities…"
Repeating themselves, the 22-page pleading calls Alabama Power a "victim" of the North Birmingham Bribery Case, alleging  "classification as a victim by the federal government."
And whom would have classified Alabama  Power as a victim, we wonder?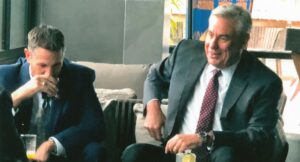 Crosswhite's drinking pal ex-U.S. Attorney Jay E. Town who resigned in disgrace last July?
Federal investigators were stunned when Town announced after the criminal convictions of David Roberson and Balch-made millionaire Joel I. Gilbert, in essence that the North Birmingham Bribery Case would come to a close and that Roberson and Gilbert were the lone wolves.
Observers, including investigators, knew that  the lone wolves conclusion was a line of crap.
Now that the Biden Administration and U.S. Congress  are prepared to tackle environmental racism head on, we, the CDLU, are preparing to advocate for a thorough investigation of Alabama Power not only by congressional investigators but multiple regulatory agencies in the executive branch. 
A rebirth of the North Birmingham Bribery Case outside of Alabama could happen soon.
With broad subpoena powers, congressional committees and federal regulators can hold Alabama Power and Mark A. Crosswhite accountable for saying they "had no involvement" or "no information" in relationship to the North Birmingham Bribery Scheme or Roberson's conviction and later firing.
Like Balch & Bingham refusing to accept the fact that 92.5 percent of residents in North Birmingham are African-American, Crosswhite and Alabama Power are refusing to accept that their role in North Birmingham, no matter how innocent or not, enabled environmental racism to proliferate.
Like Crosswhite, the all-white and wealthy leaders of the contributing entities to the money-laundering entity the Alliance for Jobs and the Economy (AJE) will contrast highly with the poor, African-American community of North Birmingham.
And sadly, none of the AJE boosters has apologized yet for their role in the egregious misconduct.