Lt. Jeff Bowers of the Columbiana (Alabama) Police Department was appointed Interim Police Chief after long-time Police Chief Lamar Vick retired at the end of last year.
Our sources at City Hall in Columbiana tell us a permanent chief will be appointed after the mayoral election in November.
Bowers should not be promoted; instead he should be demoted.
Why?
This was the police officer who pulled Burt Newsome over in an alleged "staged arrest" back in 2013, during the early days of the Newsome Conspiracy Case. The mug shot from that arrest was used by disgraced law firm Balch & Bingham to allegedly defame Newsome in an attempt to steal his legal practice servicing banks.
Balch partner Clark A. Cooper emailed the mugshot to bank executives on a Saturday afternoon. Cooper was fired on March 3, 2017 and is now selling mattresses.
Bowers is the son of Willard L. Bowers, a now-retired executive of Balch's sister-wife Alabama Power.
Willard L. Bowers consulted with Balch & Bingham on a regular basis as an executive officer of Alabama Power, including when Balch helped Bowers incorporate Keep Alabama Beautiful in 1995, according to state records. Balch also helped Bowers as a private individual organizing his own limited-liability company WLB, LLC in 2009.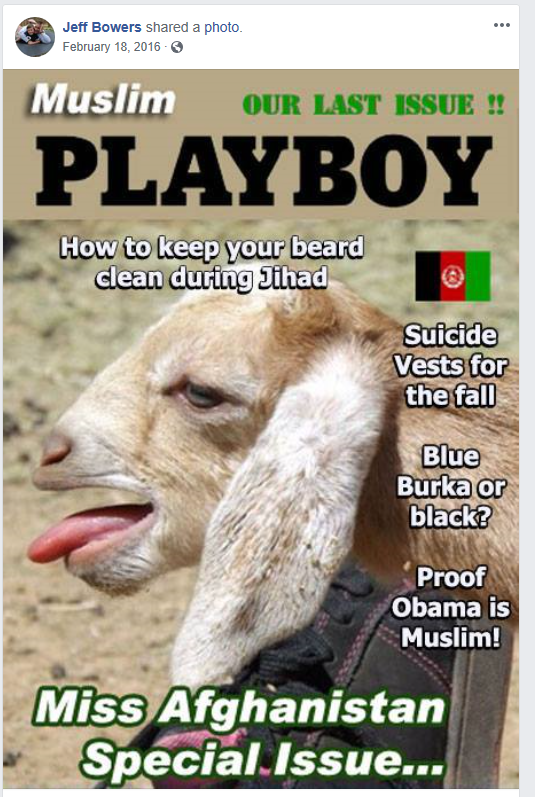 While we respect the men and women in blue, Lt. Jeffrey Bowers appears to have dishonored the code of ethical conduct.
His "staged arrest" of Newsome appears to be abuse under the color of law.
Then there is Lt. Bowers' social media post that blatantly attacks Muslims as goat fornicators.
Bowers revolting display of sheer stupidity and disgusting vulgarity is conduct unbecoming of a law enforcement official.
The City of Columbiana needs to distance the city from Bowers' conduct during Newsome's "staged arrest" in May of 2013 and begin a nationwide search for a new Police Chief.
Newsome is planning to file a civil RICO lawsuit against the conspirators and the City of Columbiana could end up being a defendant, possibly costing the city enormous legal fees.
Coincidentally, when Newsome was uncovering who actually arrested him in 2018, Bowers happened to be sitting at a desk behind the clerk. Bowers came up to Newsome (nervous, like he had seen a ghost) and declared that he had not arrested him, but just held him for Shelby County deputies.
Newsome thought that was odd.
Investigators then found his connection to Balch & Bingham's sister-wife Alabama Power and the dots were connected.