On March 18, 2020, Michael J. Hennigan (above, far left) was appointed the new President and CEO of Marathon Petroleum during the beginning days of the quarantine and COVID-19 pandemic.
In 24 hours after receiving our letter and report on the alleged racist misconduct and alleged tokenism of Balch & Bingham, Hennigan boldly terminated the embattled firm on June 17th. Even U.S. Senate filings show that on June 17, 2020, Balch was sent a final check of $40,000 and terminated.
Why such swift and bold leadership?
Prior to Marathon, Hennigan had served as President of Sunoco Logistics for over a decade in the City of Brotherly Love, Philadelphia. Philadelphia is a community that focuses on social justice, equality, and helping the least fortunate.
For three years, the previous leadership at Marathon ignored our requests and passed the buck to minions who did nothing.
However, Hennigan led and led swiftly.
We applaud Hennigan and Marathon Petroleum.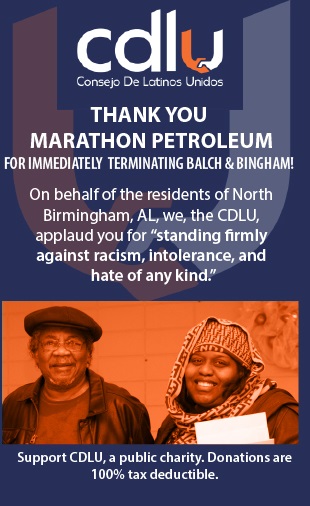 Today, we launched a "Thank You" campaign on the Toledo Blade website running on various sections through July 5, 2020 thanking Marathon Petroleum for immediately terminating Balch & Bingham and educating the public of Balch's alleged unsavory conduct.
Other major clients of Balch & Bingham are also under pressure to terminate and end their relationship with Balch, once and for all.
What will Southern Company Chairman and CEO Thomas A. Fanning (above, second from left) do next? How about BBVA USA CEO Javier Rodriguez Soler (above, third from left)? Or McWane President G. Ruffner Page, Jr. (above, far right)?
What will the world be like after Balch & Bingham?
When we met in December of 2017 with Jim Kerr, the Executive Vice President, General Counsel, and Chief Compliance Officer of Southern Company, he told us that he had plenty of other law firms he could assign work to.
Now is the time.
Southern Company, BBVA, McWane and others should terminate Balch immediately. Then approach another law firm like Langley & Bromberg or Lightfoot, Franklin, & White to do the needed legal work.
In turn, the new designated law firm should hire talent, maybe even some former untinged Balch partners, to come to the firm.
The new law firm should have an aggressive plan to hire African-Americans and other people of color to broaden diversity and reflect the community in which they work.
Racial justice and equality demand the reflection of "inherent goodness." Hennigan demonstrated inherent goodness in terminating Balch.
Now will other corporate leaders do the same?