Another blow.
After twenty years of service to the embattled firm, Barrie Wilson, Director of Legal Recruiting left Balch & Bingham last month according to her LinkedIn profile.
Balch's reputation appears to be at an all time low, and now in the middle of an alleged elderly exploitation scandal, never ending embarrassment continues to plague the once prestigious law firm.
Wilson joins the ranks of Lisa Arrington, the former Director of Human Resources at Balch who left last year after 12 years.
The exodus of two internal pillars, two directors at Balch is troubling.
Now, today, with social justice and racial equality demands modifying corporate decisions globally, the perfect storm is gathering to hold Balch & Bingham accountable for alleged institutional racism and unsavory conduct.
Balch's General Counsel Schuyler Allen Baker, Jr. , who vowed to fight to the death against the Newsome Conspiracy Case, appears to be acting like a delusional Confederate general, not realizing that the Lost Cause is, well, lost.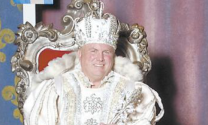 And like the Confederate Memorial in Birmingham's Linn Park that was removed after 115 years, Balch & Bingham, almost a century old, may become a relic with an ugly past, to be dismantled and forgotten.
Barrie Wilson appears to have moved on, like dozens of other ex-Balch employees to a better, happier, and healthier workplace.
Best of luck Barrie!