Polar opposites? Starbucks CEO Kevin Johnson not only had a prompt and heartfelt apology to the two African-Americans that were falsely arrested at a Starbucks in Philadelphia, the store manager who called the police was let go, and Johnson met with the two victims on Tuesday.
When Southern Company was told of the alleged racist and unscrupulous acts of their alter-ego, sister-wife, and most trusted law firm Balch & Bingham, Southern Company took over four weeks to say they would do nothing.
Starbucks confronts racism while Southern Company does nothing.
Southern Company CEO Tom Fanning has remained silent and to attempt to hide behind the foolish line that they do not want to interfere with a "vendor" is hogwash.
The current CEO, General Counsel, and Vice President of Government Affairs at Southern Company's most profitable subsidiary, Alabama Power, are all former partners at Balch & Bingham. So toxic is Balch, the executives at Alabama Power wouldn't even mention their association with the firm in a news release.
Following Johnson's lead, Fanning should meet with victims like Charles Cole and Keisha Brown (pictured above).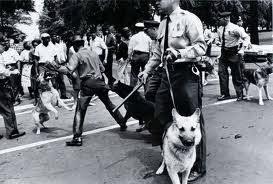 Charles Cole lived in the North Birmingham community of Harriman Park until 1959 after he was brutally beaten by racist Birmingham cops. He saved up his money and immediately moved to Michigan to escape the horrors of segregation.
After retiring, he and his wife moved back to Harriman Park nine years ago to be close to family. The racist cops are gone; segregation is gone; but institutional racism continues.
Balch & Bingham partners allegedly masterminded a $360,000 bribery scheme to suppress, discourage, and disenfranchise African-Americans from having their toxic and contaminated property tested in Harriman Park, Collegeville, and Fairmont by the EPA.  Charles, Keisha—who has lived in the area since she was a toddler—and their neighbors were impacted by this alleged racist scheme.
According to the U.S. Census, 35207, the ZIP Code that these communities are located in, is 92.5% African-American.
Time Fanning end this disgraceful behavior by Balch and show true leadership, true compassion like Johnson. End the racism. End the "ruining a rival" mentality.
As The Root so eloquently put it, "Southern may not have been indicted, but the company could be doing more to distance itself from a firm whose web of cash sticks to every facet of a conspiracy to disenfranchise poor blacks."